A dead, partially frozen shark washed ashore a Cape Cod beach this past weekend amid record-breaking cold temperatures in the Northeast. 
"Def not what I was expecting to find on my frozen winter adventure," local photographer Amie Medeiros shared in an Instagram post. 
On Saturday, Medeiros captured the images of the frozen encrusted shark amid a brutal cold snap that plunged the Massachusett's peninsula to subzero temperatures on Friday and Saturday. 
GIRL DIES IN SHARK ATTACK AFTER TRYING TO SWIM WITH DOLPHINS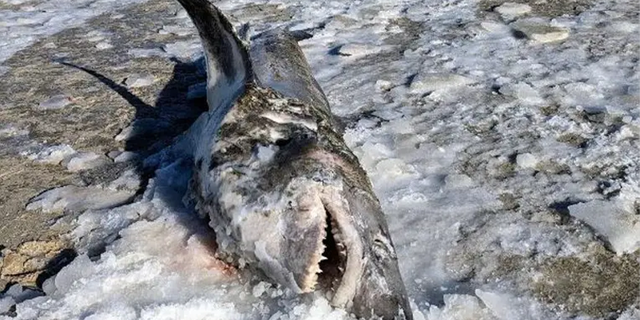 The shark which washed ashore at Cold Storage Beach in Dennis, Massachusetts, was pictured resting on one side, mouth agape showcasing razor sharp teeth.
"While the cold may seem like the most likely culprit behind the shark's demise, an injury to its right side may indicate a different cause," FOX Weather noted.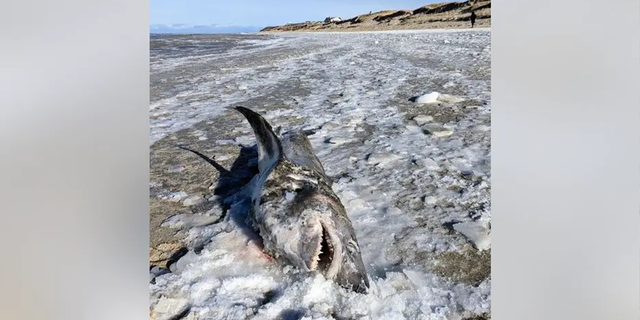 The shark is believed to be a male porbeagle, according to a Twitter post by marine biologist John Chisholm from the Anderson Cabot Center for Ocean Life. Porbeagle sharks can measure 12 feet and weigh between 300 and 500 pounds.
He believes the shark is the same one that originally washed up a week prior on another Cape beach and resurfaced and froze due to the below freezing temperatures. 
NEW ENGLAND HIT BY LATEST WINTER STORM
The porbeagle is warm-blooded – unlike some species of sharks – which allows it to live in areas such as the chilly waters of the North Atlantic. 
Porbeagles prefer cold, temperate waters, Oceana said, according to FOX Weather.
CLICK HERE TO GET THE FOX NEWS APP
On Monday, the marine biologist went to the beach to get some measurements of the shark and found that someone had taken its tail, dorsal fin, pectoral fin, and the shark's teeth.