NASA's James Webb Space Telescope has captured a stunning photo of two galaxies merging galaxies some 700 million years in the making. 
Arp 220, the collective smash-up of two galaxies, is an ultra-luminous infrared galaxy with a luminosity of more than a trillion suns. For reference, the Milky Way galaxy has a luminosity of a mere 10 billion suns.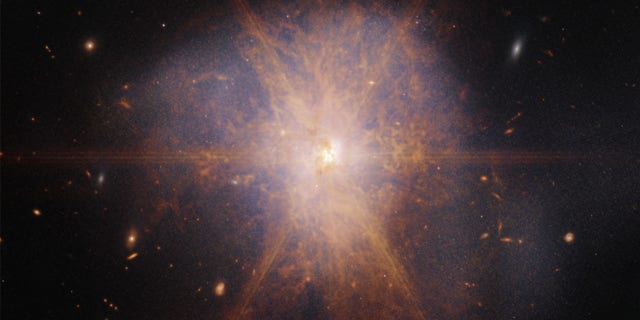 Located 250 million light-years away in a constellation of Serpens, the name "Arp 220" derives its name from being the 220th object in the Atlas of Peculiar Galaxies, which was produced by the astronomer Halton Arp in 1966. 
NASA said the two galaxies began colliding around 700 millions years ago, sparking an enormous burst of star formation. Some 200 huge star clusters reside in a packed, dusty region roughly 5,000 light-years across – or 5% of the Milky Way's diameter. The amount of gas in this region is equal to all the gas in the entire Milky Way. 
LYRID METEOR SHOWER: WHEN IT PEAKS AND HOW TO WATCH IT
Webb viewed Arp 220 – which glows brightest in infrared – with its Near-Infrared Camera (NIRCam) and Mid-Infrared Instrument (MIRI). 
Prior radio telescope observations revealed around 100 supernova remnants in an area less than 500 light-years, NASA said. The Hubble Space Telescope was able to uncover the cores of parent galaxies around 1,200 light-years apart. 
In each of the cores was a rotating, star-forming ring blasting out infrared light that created diffraction spikes – the starburst feature that dominates the image, NASA said. 
The latest image includes significantly more detail than a 2008 photo of Arp 220. 
CLICK HERE TO GET THE FOX NEWS APP 
Earlier this month, NASA released a stunning image captured by the James Webb Space Telescope of the planet Uranus, showing the ice giant's bright features in the planet's atmosphere and 11 of the 13 known rings. 
Fox News' Greg Wehner contributed to this report.