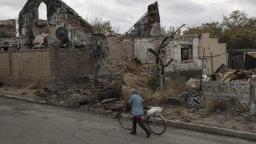 Ukraine's foreign minister rallied other countries to demand Russia "stop its hunger games" after Moscow backed out of a United Nations-brokered grain export deal Saturday.
Russia cited drone attacks on the Crimean city of Sevastopol as reason to indefinitely suspend the deal, blaming the attacks on Kyiv.
"We have warned of Russia's plans to ruin the Black Sea Grain Initiative. Now Moscow uses a false pretext to block the grain corridor which ensures food security for millions of people," Foreign Minister Dmytro Kuleba tweeted. 
Ukraine's Ministry of Infrastructure said six vessels containing 180,000 tons of agricultural products had left the country's ports on Friday, heading for Africa, Asia and Europe. This included the bulk carrier LINA, which contained 25,000 tons of corn for Egypt, the ministry said in a statement.  
It added that 403 ships containing 9.1 million tons of products for Asia, Europe and Africa had left Ukrainian ports since the deal was brokered in July.