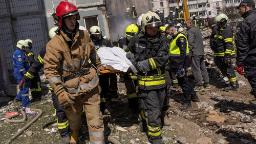 Ukrainian President Volodymyr Zelensky says he appealed to his Chinese counterpart, Xi Jinping, this week for help returning Ukrainian children who were deported by Russia.
Zelensky shared new details about the diplomatic call, which was held Wednesday, during a joint press conference with the presidents of Slovakia and the Czech Republic Friday. 
Zelensky said he used the "important conversation" to raise the plight of roughly 20,000 Ukrainian children who Kyiv accuses Russia of forcibly deporting. The Ukrainian president said foreign countries, including China, need to help Ukraine bring the kids home. 
So far, only Ukraine is helping Ukraine with the return of children," Zelensky said.
Key background: A report published in February by the Yale Humanitarian Research Lab outlined the expansive network of camps where Russia has allegedly detained Ukrainian children since the start of the war last year.
In March, the International Criminal Court issued arrest warrants for Russian President Vladimir Putin and another Kyiv official, Maria Lvova-Belova, accusing them of playing key roles in the scheme.
Beijing and Moscow: Zelensky's call with Xi comes at a time of increased Western scrutiny on China's relationship with Russia.
Putin and Xi posed as peacebrokers during a recent visit in Moscow, but the Chinese leader's proposals on ending the war have not included a call for Moscow to withdraw its troops from Ukrainian land.
Zelensky said Wednesday's call included a discussion of Ukraine's territorial integrity.
The Ukrainian leader said he also received a "positive response" from China after outlining the risks faced by any country that supplies weapons to Russia. 
US officials have warned in recent months that China could be considering crossing the "red line" and providing lethal military aid to Russia. While the countries have strengthened ties, US officials say they have not seen evidence that China has provided extensive material support to the Kremlin.
CNN's Sam Fossum contributed to this report.